V - symbol of HK 3 mast junk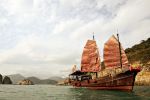 Vabella acquired V from the Museum in Macau who commissioned her in the early 1990s to be built according to traditional techniques and old junk building plans. V is now one of only 3 known traditional 3 mast junks in Hong Kong, the symbol of Hong Kong.
Vabella is maintaining V as a oart if Hong Kong Heritage so everyone can enjoy a bit of Hong Kong history on the South China Sea.