24 hours race - running to stop the traffic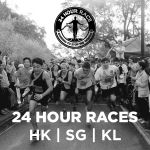 Running To Stop The Traffic (RTST) is a global youth movement to end slavery and human trafficking one endurance event at a time.
To date, RTST events have raised over HKD 2.5 million for charities that fight human trafficking on the grass-roots level.
Over 45,000 man hours have been given by runners who push their mental and physical boundaries to fight slavery
26 schools in 3 different countries come together on one day to compete against each other in order to raise awareness for slavery
Since 2010, RTST has been organised by students for students. Besides our board members, we are completely student run.
We are proud that since 2010, 100% of money donated by the public has proceeded directly to the charities we support.
Our operational costs, which we fund for separately from public donors, represent 8.6% of the gross funds we raise per annum
Vabella Limited is proud to be aan advisor and sponsor this charity from Hong Kong and its global outreach over the years.