Vabella | artspace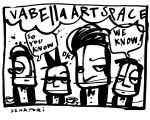 VABELLA | artspace
Vabella has a long affinity with the international and local art scene over the years including a partnership for the first lowbrow and street art gallery in Hong Kong ufoartgallery in 2009. Moving into its premises in an industrial building in Wong Chuk Hang Road in 2011 Vabella has turned it a part of its premises into an artspace – retaining the industrial character – that can be used by local and international artists for exhibitions and vernissages.
Vabella | artspace represents several renowned artists in Asia such as:
Selwyn Senatori - Dutch neo-pop artist
COR (Justus Becker) - Germany Grafitti Artist
Isabelle Apagian - Renaissance Artist
10% of all sales revenues at Vabella | artspace are used to support and foster the local and regional art scene.
visit us on facebook