Vabella | artspace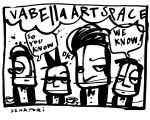 VABELLA | artspace
Vabella has a long affinity with the international and local art scene over the years including a partnership for the first lowbrow and street art gallery in Hong Kong ufoartgallery in 2009.
VABELLA | artspace today chooses unique locations to showcase the works of the artists it respresents and artworks on loan from its collection.
VABELLA | artspace represents several renowned artists in Asia such as:
Selwyn Senatori - Dutch neo-pop artist
COR (Justus Becker) - Germany Grafitti Artist
Isabelle Apagian - Renaissance Artist
10% of all sales revenues at Vabella | artspace are used to support and foster the local and regional art scene.
visit us on facebook