VEP | MIECF
Published on 23.03.2015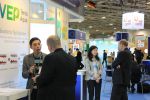 Vabella Environmental Partners is exhibiting at MIECF from March 26-March 28 at the Venetian in Macau. It is presenting the Tersa Aqua source to tap water technology from Germany and Turnkey Solutions a susainability software that helps SMEs & MNCs to track their environmental footprint.
Tersa Aqua provides clean water to communities and within hotels which greatly reduce the costs through water savings and expanding the lifetime of water systems and devices using the water.
Turnkey Solutions sustainability software is the only web based software that measures a companies environmental impact throughout the entire supply chain. With sustainability reporting legislation mandated in several countries and more to come, Turnkey Solutions offers the best daily up to date data a company CFO could wish for at a fraction of the cost of legacy systems. 

VEP is located in the European Pavillion Booth 29 & 30