SUNSEEKER INDONESIA
Published on 08.12.2017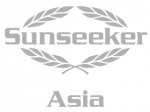 Vabella Marine together with its business partner Jababeka Group is proud to secure the distribution of Sunseeker yachts in Indonesia.
Sunseeker is the leading motor yacht brand in Asia and through close work with the government Vabella Marine is confident that the yachting business in Indonesia will grow in line with President Jokowi's plans of opening 10 new marinas by 2020.
Sunseeker allows Vabella Marine to be at the forefront of these developments with a world leading brand.